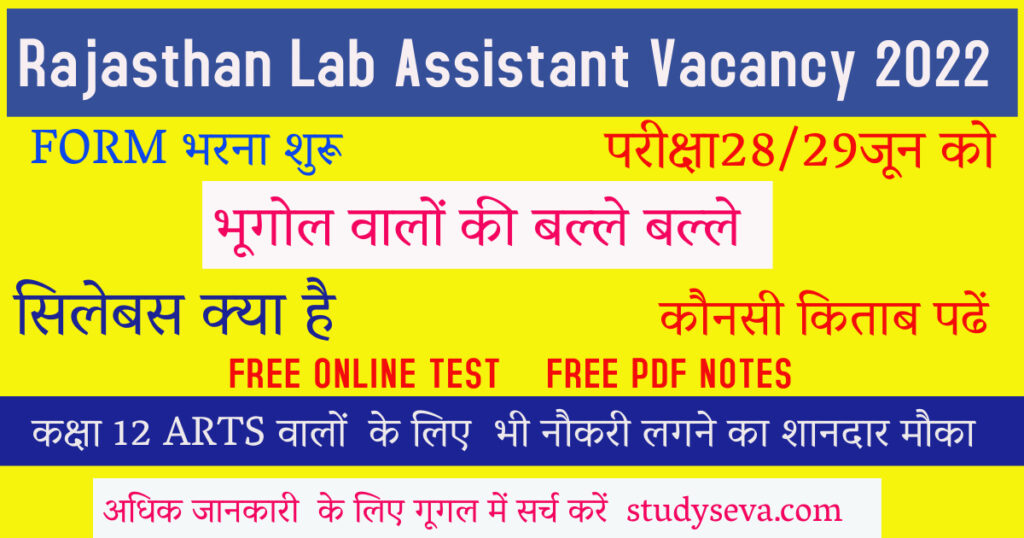 RSMSSB Lab Assistant Vacancy apply now
Good news for aspirants of lab assistant as RSMSSB Lab Assistant Vacancy 2022 for 1012 posts are out.
This rsmssb lab assistant vacancy comes after a long time.You can apply from 25-3-22 to 23-4-22 online.
for more details read the following paragraphs. RSMSSB has issued a Revised Notification for the post of Lab Asistant increasing the vacancies. Go through the whole page to find out what changes are made in revised Notification.
RSMSSB Lab Assistant Recruitment 2022
Hello Dear Friends RSMSSB has issued a notification for the recruitment of Lab Assistant.
(Pay matrix Level-8) and Junior Lab Assistant( Pay matrix level-5) to be filled in department of
Secondary Education, Agriculture Department,College Education Department and Rajya Vidhi Vigyan Prayogshala.
Rajasthan Lab Assistant Recruitment 2022
Friends this is first time RSMSSB issued two types of post for lab assistant –
Junior Lab Assistant and Lab Assistant. Aspirants of Arts, Science and Home Science
are eligible for these posts.It is a good opportunity for the students of Geography
as they also apply for the post of Lab Assistant Geography.
प्रयोगशाला सहायक के बारे में सम्पूर्ण जानकारी हिन्दी में जानने के लिए यहाँ क्लिक करें
RSMSSB Lab Assistant Notification 2022 pdf
RSSB(Rajasthan Staff Selection Board) issued a notification for the post of Lab Assistant and Junior Lab Assistant. Total Number of vacencies is 1012 including TSP and NON TSP. A brief summary of vanencies is given blow.
You can download the detailed notification from the link given blow
Revised Notification Lab Assistant 2022
प्रयोगशाला सहायक के बारे में सम्पूर्ण जानकारी हिन्दी में जानने के लिए यहाँ क्लिक करें
CLICK TO DOWNLOAD DETAILED NOTIFICATION
Rajasthan lab Assistant Eligibility Criteria
The eligibility criteria for the post of Lab Assistant is senior secondary or equivalent examination passed from a recognized board.
Lab Assistant Age Limits-
Age- Minimum age- 18 years
Maximum age -40 years
Age will be calculated as on 1 January 2023. exemption in upper age will be given to reserved categories as par Rajasthan Government rules.
Rajasthan Lab Assistant Apply Online 2022
Aspirants willing to apply for the post of lab Assistant can apply online form e-mitra , c.s.c or their personal computer or laptop.
Start Date- 25-3-2022
Last Date – 23-4-2022
Applicants are advised to apply as early as possible without waiting the last date.
Fee Details- categorywise fee datails are as follows
RAJASTHAN GK TOPIC WISE TEST SERIES
Rajasthan Lab Assisitant Exam Date-
The exam for the above cited post will be held on 28 and 29 june 2022 on allotted exam centres by RSSB.
Rajasthan Lab Assisitant Exam Important facts and Links